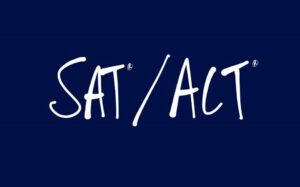 Below I explain all of the relevant details about the SAT and ACT and how best to prepare for them, in a loosely logical order.

How do the SAT and ACT differ?
Generally speaking, the SAT has harder material, but you have more time to complete it, and the ACT has slightly easier material, but you have less time to complete it. They are both "norm-referenced" tests which means that your score is a comparison to the other students who took your test, not a percentage of right vs wrong. Here are some more specific details:
The SAT sections are Reading, Writing & Language, Math - no calculator, Math - calculator, optional essay.
The ACT sections are English, Math, Reading, Science, optional essay.
The SAT Writing & Language is very similar to the ACT English, the SAT Reading is very similar to the ACT Reading, and the Math sections are similar in both tests. On the ACT, you're allowed to use a calculator on the whole Math test, unlike the SAT, which has a no calculator portion. The ACT Math is also different from the SAT Math sections in that each question gives you 5 answer choices instead of 4. All the other sections of the ACT have 4 answer choices like the multiple choice questions on the SAT. The SAT, however, has some "free response" questions in both Math sections - you bubble in your answers on mini Scantron grids on your answer sheet. In the ACT Science section, you only have to actually have some Science knowledge for about 5 of the 40 questions in the section. The rest of the questions are "Science Reasoning" - reading and interpreting scientific graphs, charts and text.
Both tests take a little over 3 hours without the essay and a little under 4 hours with it.

Who's who?
The SAT is made by a nonprofit organization called The College Board, and the ACT is made by a different nonprofit called ACT, Inc. The College Board also administers other tests, and they're explained below.

They're both nonprofits?
Yes, but they're not all lovey dovey. They're pretty intense in their competition for your business. They both REALLY want you to take THEIR test.

What other test does the College Board make?
In addition to the SAT, the College Board administers the PSAT, the SAT Subject tests, and the AP tests. The PSAT is explained below. The SAT Subject tests are required by some colleges. They are single subject tests, take an hour to complete, are given on the same days the SAT is given, and a perfect score is 800. The AP tests are not required by any colleges, but they can beef up your college application. They are given in May every year, and you can take them when you take an AP course. A perfect score is a 5. Sometimes colleges will give you credit for an AP class if you do well on an AP exam. I did well on the Calculus BC AP exam when I was in high school and entered William and Mary with 8 Calculus credits.

What is the PSAT?
The PSAT is a test that the College Board gives to try and lure you into taking the SAT, by helping your student get used to their test. They are usually given by schools during the school day, though some schools don't offer them. There are three different versions:
the PSAT 8/9, which is given in the Spring of 8th grade or the Fall of 9th
the PSAT 10, which is given in the Fall of 10th grade
the PSAT/NMSQT, which is given in the Fall of 11th grade (the "NMSQT" part means that if your student scores in the top half of the top 1%, they qualify to be a National Merit Semifinalist)

How is the PSAT different from the SAT
The PSAT tests are shorter and a little easier, since they're given to students who are younger than the students who will be taking the SAT. Still, they're a good predictor of how your student will score on the actual SAT.

Is the PSAT the same as a "practice SAT"?
Nope. A "practice SAT" is not a PSAT, but a full length SAT. They're available in different forms. The College Board has 10 practice SAT's on their website, and they release 3 of the 7 tests they give each year. I use these with my students because they are made of questions from actual official SATs that were given in the past. There are "practice SATs" in prep books from Princeton Review, Kaplan, Barrons, etc, but those practice SATs are made by those companies, not by the College Board, so the test questions are just a little different - a little off.

Are there practice ACTs?
Yes. Just like the SAT, the ACT releases 3 of the 7 tests they give each year. I use these with my students. Again, Princeton Review, Kaplan, Barrons, etc - they'll have practice ACTs in their books, but again, these were made by people working in their company, so the questions are a little off. Always use the official practice ACTs from ACT, Inc. They're a little harder to find than the College Board's practice SATs. Let me know if you need them - I can help you find them.

When do students first take the SAT or ACT?
Most students take the SAT or ACT for the first time in the Spring of their Junior year, though I've worked with students in their Sophomore year who've taken their first SAT or ACT earlier. One of my Sophomores prepped all Spring and rocked a 1490 on the SAT in August, just before her Junior year started. She was done before her friends even started prepping.

Should my student just take one of the tests and then decide about prep?
Up to you, obviously, but I advise against it for a couple of reasons. First, some colleges require that you send them all of your test scores. If your student's first test score is low, those colleges will see that score. Second, when I can work with students before they take their first official test, they tend to have higher overall improvements over their first PSAT or practice ACT scores. Not sure why this is, but my guess is that it has to do with confidence. A low first score can hurt a student's confidence, and students tend to do better the better they feel about themselves and their ability.

How often are the tests given?
Both the SAT and ACT are given 7 times a year. There is at least one of the tests (either an SAT or an ACT or both) every month except for January.

Can we see the test after my student takes it?
As mentioned above, yes - for 3 of the 7 test dates. For the SAT, if you order the "QAS" (Question and Answer Service - it's $18 extra) then you will be able to see the test afterwards, and they'll tell you which ones you got incorrect. This is offered internationally for the May test and in the US for the May, October and March tests.
For the ACT, the QAS equivalent is called the "TIR" (Test Information Release - it's $20 extra). It is not offered for international tests, but is offered for tests in the US for the December, April, and June tests.

When should we start test prep?
In the past, almost everyone took the SAT or ACT for the first time in the Spring of their Junior year. Students doing this should start with me in December, January or February. However, I've seen an increase over the past few years of Sophomores starting with me in January / February or June / July as well as Juniors starting in September gearing up for the December test.

How often will my student take the test?
Most students take the test they choose 2-3 times.

Is it bad to take the tests too many times?
No. Colleges tend to see multiple testings as being proactive. That said, my opinion is that any more than 4 times might seem a little excessive to them.

Can my student take both tests?
Yes. You can take both tests, but in test prep, you should concentrate on one or the other to maximize your score. That said, odd things occasionally occur. I had a student who prepped with me for the SAT, got a good score increase, but then took the ACT on a whim a few weeks later and scored substantially higher.

What is "Score Choice"?
In the past the College Board and ACT, Inc. would just send all of your scores to the colleges you choose. Now, however, with Score Choice you can choose which scores you send to colleges. If you did really poorly on one test date, you can tell the College Board or ACT, Inc. to NOT send those scores to colleges. HOWEVER, some colleges require that you send ALL of your scores and ask you NOT to use Score Choice, so keep that in mind.

What is a "Super Score"?
A Super Score is the score your student achieves by mixing and matching different sections from different test dates. For example, if your student scored a 650/710 (Reading & Writing / Math) on one test date and then scored a 680/690 on another test date, then Super Score combines the Reading & Writing score from the second test with the Math score from the first test. Their Super Score would be a 680/710.

How do I "Super Score"?
You don't. The colleges do. You send them your scores and the colleges that Super Score will do the calculations for you (though the ACT will do this for you starting in September 2020 - more on that below in the ACT changes section.)

Does every college "Super Score"?
No. Some do and some don't. Check with each college on your college list to see which ones do and which ones do not

Okay, hope that helps! If I didn't answer a question you have, feel free to email me at [email protected].